Be Proactive. Be Fast.
Be Confident. Be Unified.
APEX from ACLIVITI —
"How IT gets done. Right."
From financial reporting to supply chain integration to e-commerce to payments to client and team member engagement — IT is both business enabler and strategic advantage in your quest to acquire and retain loyal customers.
But strategic advantage does not come from the technology itself. It is gained and maintained through process alignment and relentless focus on technology's capacity for achieving and continuously improving business outcomes.
Technology Value Rationalization (TVR™) is your means for ensuring you have the right technology for the right use at the right time at the best possible cost—all entirely based on value delivered to the business.

APEX™ is a logical, intelligent, end-to-end process that expertly guides you and your team in analyzing, defining, evaluating, and implementing business technology solutions. The APEX framework rallies executives, line of business leaders, and frontline process owners around innovative technologies that enable strategic initiatives and produce exceptional business outcomes. As a result, your critical decision-making becomes Proactive, Fast, Confident, and Unified across the enterprise.
It's About Getting Things Down To One Number.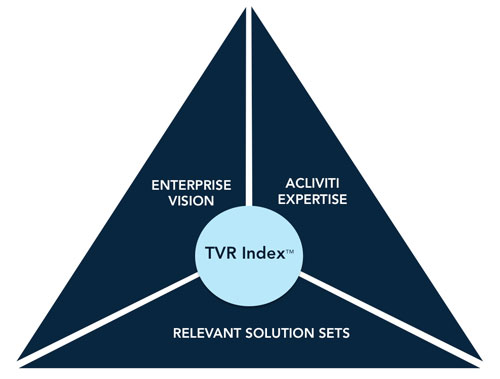 The power behind the APEX™ framework is your ability to perform exhaustive, unbiased evaluations of the endless universe of As-a-Service solutions that fit your desired state — ultimately defining the optimal TVR Index for a given set of parameters, goals, and expectations.
The TVR Index is calculated using triangulated qualitative and quantitative data from multiple sources — what we call "doing the math."
Contrast that with the old way of doing things, where solutions are past useful value by the time they are fully implemented and the business realizes any tangible benefit.
Simple isn't easy. But it is efficient, effective, and financially rewarding.
Transforming complex, rigid legacy IT systems into uncomplicated, agile, scalable, and user-centric As-a-Service solutions is not easy, but the rewards of a data-driven, disciplined approach are real and tangible. Note the chart below illustrating 2014 IDC research findings related to cost benefits of simplifying IT.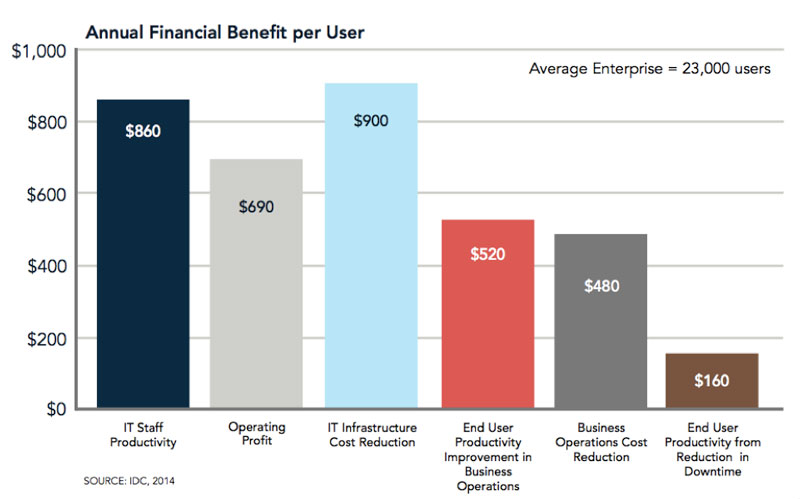 For example, look at the time and productivity your IT team gains once the burden of "keeping the lights on" is lifted—a financial benefit of $860 per user on the network. For the average enterprise of 23,000 users, that translates into $19.78 million. Time and money better invested in strategic planning and business process innovation.
Overall, IDC shows gains of $3,610 per user on average for the six areas studied—or over $83 million for the average enterprise comprised of 23,000 users. Of course it is important to keep in mind that these figures represent the average estimated benefit across the nine organizations involved in the study. The actual benefits you might experience are predicated upon specific environment, industry, and number of users.
The APEX™ framework for Technology Value Rationalization helps you systematically address these areas of opportunity using proven, fact-based scoring that identifies and defines a workable and verifiable business case for your particular objectives and desired outcomes. Benefits that are direct, measurable, and attributable:
1
Cost savings in procurement and ongoing operations.
2
Improved cash flow, a more realistic view of IT investment, and enhanced forecasting capabilities.
3
Consistency and standardization of procedures and workflow integration.
4
Improved user experience producing deeper client, channel partner, and employee engagement.